Working from home during the COVID-19 virus?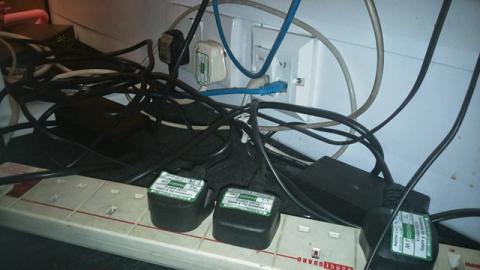 Working from home during the COVID-19 virus? Here are some electrical safety tips.
Having to work from home means some extra space to set up an office area and the need for extra power.  Make sure your working habits do not create a fire risk, by following these steps will reduce the risk:
Don't daisy chain extension leads - If your cable doesn't reach you, don't plug it into another adaptor. Move your workspace closer to the socket or use an extended lead.
Don't overload plug sockets, check out this online socket calculator.

Keep your workstation clean and free of liquids. Drinks can spill and short out your plugs its essential to keep them far from electrical objects.

Beware of cables. Take time to organize your cables as it can present a trip hazard to you and others to your home.

Be mindful during mealtime. With many of us cooking meals at home, being undistracted by emails or work calls that result in the hob being left on unattended may help reduce fire risk.

Always use certified charging cords or the cords that come with your devices. Cheaper off-brand cords aren't as closely regulated and can start fires.

Don't charge electrical objects on beds. Beds are highly flammable, always place your gadgets on a hard, flat, non-flammable surface. This can also create a fire risk due to the potential of the item overheating.
If you are worried about overloading your sockets please contact your local electrician to advise on what can be done.